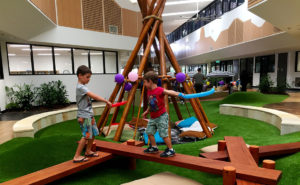 We congratulate our client Goodstart Early Learning for the recent opening of their newest Brisbane CBD centre in the historic Broadway building, Adelaide Street. This interior landscape / play space was designed by Greenedge Design and overcame some significant technical challenges including limitations in weight loading and non-penetration of the existing slab, services / drainage provision and a variety of play spaces and equipment to cater for this 207 place centre. We're extremely pleased to have designed a truly unique play environment complete with a tree house with artificial tree and an interactive bespoke water play area.
Since the completion of this project in mid-June, the interior play space of the Adelaide Street Early Learning Centre has gained significant media interest. Architectural design publications Bower Bird,  Architecture & Design, Australian Design Review and Nine News Queensland have featured the project, explaining the unique approach and challenges that arose from designing an early learning centre within a building with heritage significance.
If you would like to see the project first hand, our Practice Lead Greg Thomas will be conducting tours as part of Brisbane Open House on Saturday 7th October from 10am – 3pm (tours on the hour).
For more information about visiting this unique interior play space as part of Brisbane Open House click here and for more information on the project specifications follow the link to our portfolio.